Ingrown Hair Laser Hair Removal
Free Consultation
Free Patch Test
Ingrown hair laser hair removal
We offer ingrown hair removal treatment for eradicating and removing multiple ingrown hairs in all areas including beard face areas, hollywood and legs. Our deep targeting laser machines work to deliver laser energy in the deeper layers to target ingrown hairs.
Eradication of Ingrown Hairs will remove dark pigmentation marks, rough skin, razor bumps painful spots and give you smooth silky skin.
Razor Bumps
Mens Razor Bumps

Beard & Neck
Intimate
Intimate Ingrowns Hollywood & Under Arms
Body Ingrowns
Full Legs Hollywood, Under Arms
Lower Body
Lower Body Ingrowns Buttocks & Thighs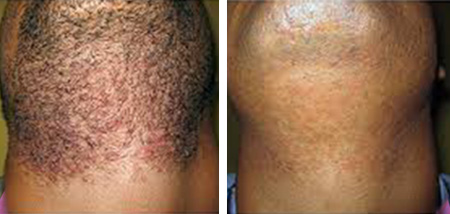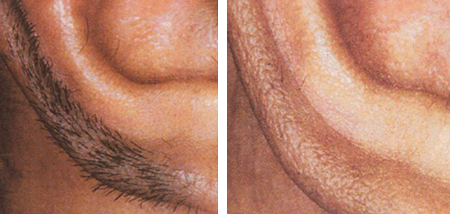 How does Laser Hair Removal work?
You'll have to consult with our physicians to go through your medical history and explain everything about the process. During the initial consultation, you can also discuss your expectations and results. It is followed by a patch test. The patch test is done to determine whether your skin is suitable for the treatment or not.
Once found suitable, a bespoke treatment will be provided where a beam of light energy is targeted on your skin. This highly concentrated light works to stop the working of hair follicles found underneath the superficial layer of skin. The pigments absorb the light in the follicles, which heats the hair and follicle to disables the hair growth.
The entire process is administered by a highly professional and experienced laser practitioner so that during the process, the surrounding skin isn't affected. And the entire process is done safely.
Am I suitable?
You are suitable for laser hair removal if unsightly, thick and dark hairs are found excessively on your face or body. And you want to get rid of them permanently without the conventional methods of hair removal. At Laser Hair Removal Clinic, we use the most up-to-date lasers like Alexandrite for lighter skin types and Nd: Yag for dark.
Do I have to grow my Hair?
When you come for an initial consultation, we would like your hair grown. It eases our job as we easily assess your hair type, recommend the number of sessions, and choose the devise a result-driven treatment. You can shave your hair right before the treatment or between two sessions.
Any downtime?
Generally, laser hair removal is considered quite a safe treatment with no real downtime. You can continue with your routine activities. However, mild redness, irritation and itching can be experienced by some people. If you happen to experience any side effects, we recommend our ice cooler and Aloe Vera Gel. Their soothing effect relaxes the skin, and you feel much better.
Our specialist will also provide you with aftercare instructions to follow for the best results.
Results
Laser hair removal is known to give amazing results like eradicating unsightly hair from your face and body. You also get rid of ingrown hair. Future hair regrowth will be visibly finer, softer and lighter in colour.
Also, you will achieve healthy, smooth, and even skin as the controlled heat of the laser stimulates the collagen.
Why choose Laser Hair Removal Clinic?
We are in the laser business for more than a decade. Our highly experienced and qualified laser practitioners will be serving you at our state-of-the-art clinics. We never compromise on the quality and always use the latest lasers like Alexandrite for lighter skin types 1-3 and Nd: Yag for darker skin, including black skin.
At Laser Hair Removal Clinic, we practice bespoke protocols and gold-standard lasers for every client to provide long-lasting, safe and great results at affordable rates.
What our Clients
have to say
Priti's Story
I noticed a huge difference just after one session on my face, my stubble had almost gone and is feeling smoother. I know the results are going to get better after each session.
Sharon's Story
I suffer from PCOS and had to shave my facial hair once a day. I have had a course of 8 sessions and have completely smooth hair free skin with no stubble or ingrown hairs. 'loving the results.
Kevin's Story
I really could not find a place in London that treats the male intimate area. I was treated with dignity, respect, professionalism and discreet manner. I have had excellent results.