Who doesn't want to achieve smooth, soft, and hair-free skin with no worries of stubble coming back anytime soon?
Well, this is what Laser Hair Removal treatment is meant to do.
The temptation of saying goodbye to old-school, costly, and time-saving hair removal methods are too hard to resist for millions of people.
Before you go for this highly in-demand method of removing unsightly and confidence-shattering hair permanently, it is imperative that you thoroughly research about Laser Hair Removal method. The ins and outs of it, pros and cons, and many other facts must be known before you turn to a clinic for LHR.
Ready to expand your knowledge and know a lot more about this permanent hair removal process?
We are about to tell you some interesting facts about it and debunk some myths associated?
Let's get rolling!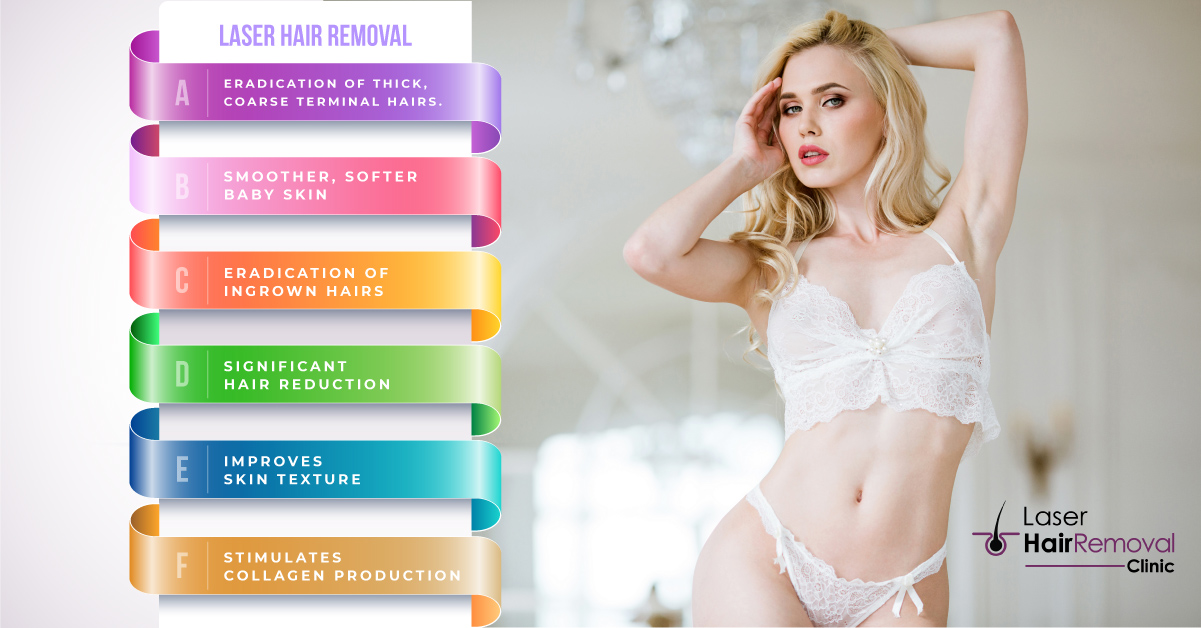 11 Interesting Facts about Laser Hair Removal
1.      Do you think it hurts? Not too much
The laser radiations are targeted at the pigment of the hair.
Here, this radiation is converted into heat and thus damages the hair follicle to stop future growth.
As a result, you may feel a bit of stinging and slight burning during the process, especially on the thin skin near the nose, temples, and chin.
However, the cooling mechanism helps to keep the process bearable. It involves a cold blast of air exactly where the Laser passes. So, people calling it awful may not be aware of the complete process.
You cannot even compare the torturous waxing and agonising feeling of plucking with Laser.
That's how good it is.
2.      LHR (laser hair removal) has got more than you think
Apart from getting rid of unwanted hair from your face and body, LHR also nips the ingrown hair in the bud.
Ingrown hairs can be irksome, and this process gives you relief against the irritation.
That's not all.
You get clear, soft, and smooth skin with permanent hair reduction.
Add to that, the benefits like time-saving, cost-effective, safe, and permanent results give LHR a clear edge over other hair removal methods.
3.      No saunas, tanning, and gym for a day or two
Yes, that's right.
You cannot perform any task that results in your body getting warm.
Why?
Because the heat produced by the Laser tends to stay inside your skin for 24-48 hours, it is important not to hit the gym, saunas, hot showers, etc., 2 days post-treatment.
If you do not heed this advice, you will be creating pleasant heaven for the bacteria. It can worsen your situation, leave marks on your skin and increase the recovery time as well.
24-48 hours isn't a long time.
4.      Patience is the key
For a clear difference to be seen, you'll have to wait around 2-3 weeks after your first treatment.
To achieve amazing hair-free, care-free skin, you'll have to go for at least 6 sessions. This is the minimum. Some people, depending on their skin and hair type, may have to go for more sessions.
Experts suggest not to delay any sessions and be regular.
There's a reason behind it. The lifecycle of all hairs is not the same, and the growth of follicles is at different stages. Being regular in your approach makes sure that all hairs are treated the way they are meant.
After one or two treatments, you may find hairs growing much finer, but a complete course of 6-8 sessions promises you lasting results.
5.      You have to stay under the shade
Sun can be atrocious before and after the treatment. So, it is better to avoid it and stay under the shade.
No sunbathing and tanning at all.
Your dermatologist will be quite strict on this, and rightly so.
If you have to visit someplace, it is highly recommended that you apply SPF 50 or above sunscreen.
Apply it generously, cover the area that you want to treat or have treated. A hat and a layer of soft clothing above the skin will save you from unforeseen skin problems like skin burning.
6.      It's a lunchtime process
It's a fast treatment option and won't take much of your time.
One session can be done in as low as 15 minutes, depending on the area of the body. You'll have to spend around 20 minutes in the clinic for a full face session.
This time also includes the removal of any cosmetic products from the face. Once the session is done, you may have to apply the makeup again, but sacrificing 20 minutes for a soft, smooth and lush appearance isn't too much.
7.      You may be asked to change your cosmetic products
After the treatment session, your dermatologist will ask you to avoid using scrubs, glycolic acid and retinol creams, etc.
If you feel dry, talk to the service provider, and they may recommend facial mists or moisturisers.
You are required to avoid chemical peels like a glycolic acid peel or salicylic peel two weeks before and after the treatment.
The same goes for fake tan and sunbathing.
8.      Top up treatments is a reality
9 out of 10 people experience permanent hair reduction after a complete treatment comprising 6-8 sessions.
However, factors like fluctuating hormones may result in hair coming back. This is why you may have to go for top-up treatments of LHR.
Depending on the certain type of skin and individual cases, the space between two top-up treatments will be larger. For instance, you may be asked to come for a top-up twice or thrice a year and not after every few weeks.
9.      The results from laser treatment can be upside down; sometimes
Wow! Now that's a fact most of you didn't know.
We can bet on it.
In rare cases, it has been seen that hair growth, instead of stopping and resulting in finer hair, results in the stimulation of hair growing thicker and faster.
However, during the initial consultation, while going through your skin and hair type, experienced dermatologists will let you know that you aren't a suitable candidate for LHR.
10. Laser Hair removal is for all skin tones
Do you want to get rid of thick, coarse hair?
This is exactly what Laser does.
All you need is thick and coarse hair, and you qualify for this treatment.
A few years back, it was thought that LHR is only for people having dark hairs and light tones because dark hairs immerse the laser radiations to produce extraordinary results.
For this very reason, people with darker skin tones were not considered ideal candidates for the laser method of hair reduction.
Constant development in technology has now made it possible to treat all kinds of hair.
ND: Yag lasers are great for pigmented and darker skin tones.
On the other hand, Alexandrite lasers are suitable for lighter skin tones.
11. Choosing the right laser hair removal clinic is the key
Are you facing embarrassment due to unsightly hair on your face and body?
Afraid of the 5 'o'clock look and want to regain your confidence? We at The Laser Hair Removal Clinic master the art of bespoke treatments based on your hair type, skin tone and thickness.
We use the most advanced medical-grade lasers, ND: YAG and Alexandrite, to give you a luxurious skin finish you've always desired. From the point you enter our ultra-modern clinic till your last session with us, our highly experienced, professionally qualified and friendly staff will fulfil all your requirements.
Book your treatment with us and start cherishing a hairless and tension-free life again.