To all the beautiful ladies out there, yearning for a feministic appearance, various beauty procedures help you achieve that chic look.
The one that leads them all is Laser Hair Removal.
Spending a good portion of your fortune, visiting laser clinics every time with high hopes and religiously following the aftercare routine just to achieve smooth and hair skin. A lot of women have toiled hard, and you are not the only one.
The dream of a hairless finish
Before, during, or soon after the treatment, you must have dreamt of unchaining your skin from thick, coarse, unsightly and confidence-killing hairs.
Going through the laser treatments bearing the so-called discomfort – which is actually a bit of torture − on your face, legs, arms, back, and Hollywood area in hopes of achieving a baby soft skin and saying goodbye to the stubble can sometimes go in vain.
Yes, Laser Hair Removal treatments can sometimes prove to be ineffective.
We know a lot of questions may be spinning in your mind, like is this expensive procedure just a sham? Does it really work as promised? What could be the reason for a lot of women not finding exactly what they are after?
Let's find out!
The uncertainty
With women suffering from PCOS, the hormonal imbalance can result in unwanted hair growth. And over the years, we've known LHR (Laser Hair Removal) as the perfect remedy for it.
Nevertheless, if you don't really know about it, like what you are getting, you could find the situation going against you. And you are turning back to conventional methods of hair removal like shaving and waxing etc.
Another reason for this treatment not working as supposed is an inexperienced laser technician. For example, choosing the wrong laser type for your skin and hair type or getting confused between permanent hair removal and permanent reduction.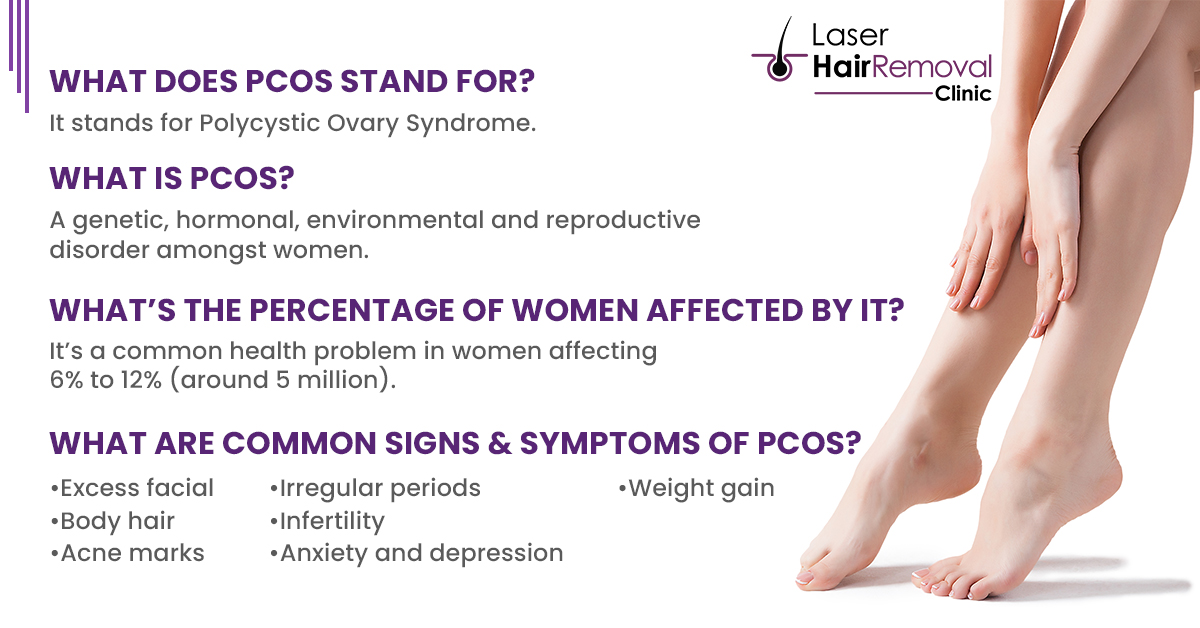 Reasons why LHR (Laser hair removal) proved ineffective
Let's now tell you four major reasons why LHR does not perform as expected.
You didn't read everything in detail
It's hard to resist those catchy ads where hairless women enjoy a luxurious finish, influencing your thoughts and luring you towards the treatment.
But before you go ahead, make sure to read the fine print.
Laser Hair Removal clinics mention the statement, "results may vary" within the customer contract or consent form.
This short but broad statement means that many factors can affect the treatment, and you may not get the ideal or fast results.
These factors include PCOS or hormonal imbalance, not following the pre or post-treatment instructions the right way, not following the treatment plan, or any other.
You mixed the term permanent hair reduction with permanent hair removal
If you also fell for the crunch lines in commercials like "Hair Free Finish Forever, Never Shave Again, Say Goodbye to Razors or Finally Be Hair Free", you are not alone.
We are in the same ship, ladies. But, in reality, these claims may not be true for everyone.
To clarify, we've summarised the FDA's definition of permanent hair reduction as the process of hair removal, which can result in permanent results for some people based on their skin and hair type. They can experience hair growing back.
On the contrary, permanent Hair Removal means when you or anyone experiences hair removal permanently.
What does this mean?
It means the area which is treated by laser doesn't see any hair coming back.
Although it is true for Electrolysis hair removal, not for LHR, according to the marketing campaigns, provides permanent hair reduction.
Still, we cannot rule out the possibility of treating body hair with Laser and not seeing any regrowth. It is possible.
Whether you've gone for Electrolysis or Laser Hair Removal, hair can make an unwanted entry.
However, knowing all the ins and outs of the treatments will let you make an informed decision knowing what results will you get.
You've booked your treatment with an amateur laser technician
This is a common scenario experienced by many of us; amateur technicians pretend to be professionals.
In the UK, for a person to be providing Laser treatments like hair removal, mandatory training is a must to go along with a VTCT qualification.
Doctors, nurses and laser technicians working in clinics are mostly fine. The problem lies with those providing the same treatment in spas.
These people may not be fully trained and equipped with the right knowledge.
Simply saying, if a person doesn't know dermatology, the life cycle of hair growth, the technology and can't customize the laser frequency, they can do more harm than good.
Not only does it result in a lawsuit, but the entire industry has to bear the grunt.
People suffer from hair and skin getting burnt. Some don't get near to expected results even after spending a whole lot of money.
We've gone through instances where the technicians don't even know the difference between laser technologies like ND: Yag and Alexandrite. Some may provide IPL treatment in the name of Laser.
So, what can you do? First, instead of shelling money, make sure you book your treatment with a reliable, experienced and licensed service provider.
If they are not licensed, time to search for another.
Look for reviews on the internet, ask people around you or talk to a friend; they can help you.
You're affected by hormonal imbalance
A lot of women are affected by hormonal imbalance, which is untreated or undiagnosed.
This condition can have a direct impact on the outcome of Laser Hair Removal.
If you are also one of those suffering from PCOS, you can be surprised by body hair making sudden comeback months after the Laser Hair Removal treatment.
This means that the treatment will only work for a short time. And this is what happens with anyone suffering from PCOS.
You may be annoyed to see facial hairs growing and the return of the lady's beard. A few hairs on a specific body area turned into stubble. The hair will keep on coming until you get treated for the specific problem.
If you've gone for the treatment and your hormones are under control, you will see a clear difference in the results. In addition, your treatment sessions will last longer as compared to earlier.
Not to forget, ailments like diabetes, thyroid issues, and obesity can also make Laser Hair Removal treatment less effective.
Conclusion
Having proper knowledge as to why the LHR won't perform as expected will surely help you make the right decision in case you plan to go through it again.
It has proved its worth in giving women the much-needed feminism, looks and the confidence to make their presence felt in all walks of life.
Before the treatment, we recommend you do your research and book a consultation where you are allowed to ask any questions regarding the treatment and what is involved.
You may also want to see documents like license, which laser equipment the clinic is using and how much experience the service provider has in the field.
We at The Laser Hair Removal Clinic are ready to answer all your questions, clear all confusions and provide the right treatment for lasting results, thanks to our highly qualified, experienced and registered technicians.